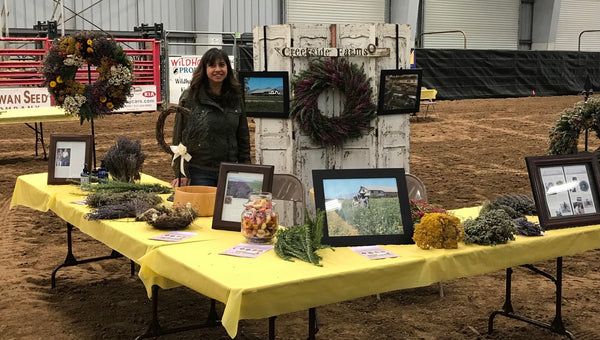 "What's the first thing you think of when someone mentions farming?" is one of the first questions Allen asks the new group of 3rd graders crowding up to our booth. Hands shoot up and eager children yell "cows!", "tomatoes!", "carrots!" "pigs!"
Approximately 4 groups of 25 3rd graders come through in waves every 10 minutes from 9:30am to noon during Creekside Farms' 5th annual Farm Day.
Allen and Teri patiently explained that although we are farmers and our business is indeed farming, we grow product like flowers, herbs and broomcorn – not your usual South Monterey County farm fare. We enjoyed the delighted looks on their faces as we showed them our finished products – wreaths made of herbs, flowers, fresh rosemary and heather and our trademark lavender. They were able to sink their hands in a big bowl of lavender bud and tickle their noses with big bunches of fresh rosemary and dried summer savory.
We were thrilled to be included once again in this day devoted to sharing and teaching about agriculture in its various forms.  Farm Day is a program that brings together business, industry, community and education to benefit third grade students. The hands on demonstrations and the information provided gives students an opportunity to be exposed to all the various aspects of agriculture.