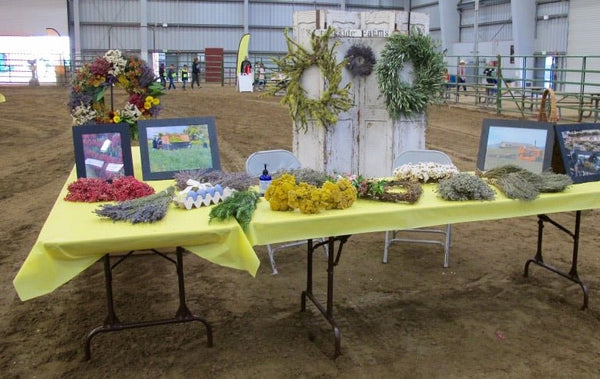 We were invited to participate, once again, in our local community's Farm Day, a day devoted to sharing and teaching about agriculture in its various forms here in South Monterey County.  It was a wonderful feeling to talk about what we grow and to explain that farming doesn't just produce heads of lettuce, cabbage, onions and broccoli. There were "oooh's and aah's" as we held up bunches of herbs, lavender, yarrow and pepper berries that we have planted, grown and harvested right here on our farm. I think we may have "planted a few seeds" for some future female farmers whose love of the flowers and the wreaths we create out of them was evident.
Farm Day is a program that brings together business, industry, community and education to benefit third grade students. It provides information and hands on demonstrations about the agricultural industry of Monterey County. It gives students an opportunity to be exposed to various aspects of agriculture: everything from food production to wreath making.
 Who knew that burying your hands in a large wooden bowl of loose lavender bud could elicit such delight and excitement from third grade children, their teachers, parents and chaperones?
Teri showing one of our Twig Heart Wreath designs 
Sweet, bright faces
Future Farmer?
Happy Farm Day participants 
We are already looking forward to next year's Farm Day and having another 300 or so third graders brighten our day, learn about what we do and be inspired!