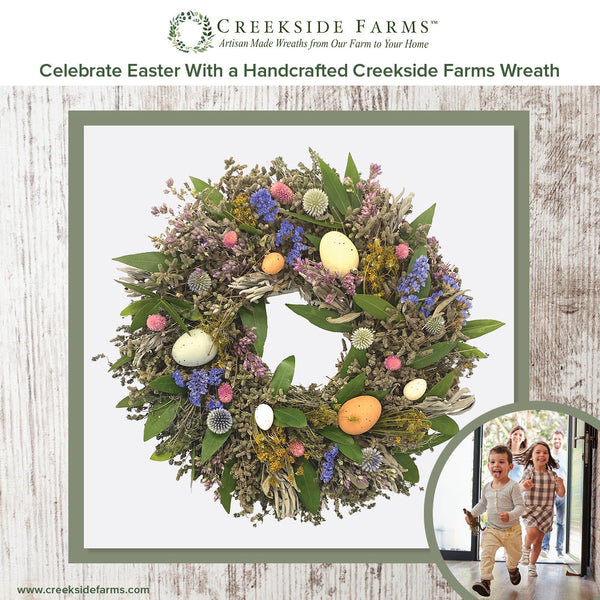 Celebrate Easter with a handcrafted Creekside Farms wreath
A classic Christmas wreath has long been an essential, decorative, holiday element — and for good reason. But Easter wreaths are all the rage within Elle Décor, Real Simple, Country Living Magazines and more!  Easter wreaths are popular for those who want to expand the look well beyond holly and mistletoe and celebrate — springtime! It's a season of hope and new beginnings, and a festive wreath reflects those sentiments!
Boasting bright floral designs and pastel-colored adornments, Easter wreaths make the perfect front door accessory or decoration for your hallway, or even as a show-stopping table centerpiece.
Lovingly assembled on our family farm and steeped in three generations of tradition, our artisan wreaths at Creekside Farms are handcrafted using a unique blend of fresh and dried materials to create our distinct and beautiful designs.
Rest assured, our team will round up some beautiful Easter and spring-themed wreaths using everything at our disposal — including heavy doses of creativity. Expect different materials, shapes and textures, along with whimsical, seasonal charm that is sure to bring a smile to any guest that knocks on your door or sits at your table.
This year we celebrate Easter on April 9 (it changes each year — always falling on the first Sunday after the first full moon of spring).
Whatever your reason to celebrate the Easter season, let Creekside Farms construct a personal symbol of hope and renewal. Give us a call at (831) 674-1234 or drop us a line here.