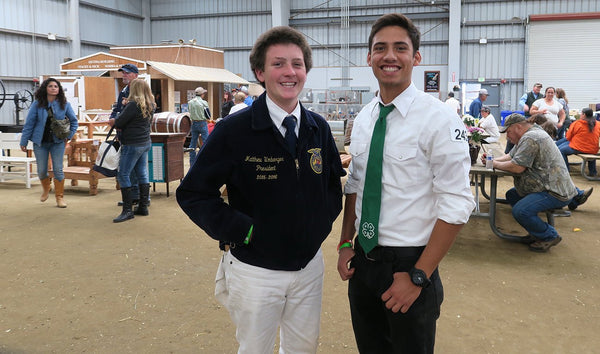 Beginnings and Endings
There is no better way to describe our past week here at Creekside Farms than new beginnings and bittersweet endings.
Our family has participated for over 7 years in our local Salinas Valley Fair in King City. This year brought in an all time high attendance of 38,000 people and a record breaking 1.86 million dollars for the Junior Livestock Auction. The generosity and support of our small community is truly remarkable and we are so proud to be a part of it.
Allen and Teri Umbarger experienced their final fair as direct participants, as their youngest son Bryce is graduating from high school this year and is off to UC Davis in the fall. Bryce received 3 best of shows for his photography entries. Teri is an avid photographer, so this apple didn't fall very far.
Their oldest son, Branson, is attending Holy Names University where he is majoring in Business and playing baseball. He is back for the summer, working at the farm with a long list of tasks, we are so happy to have his help and brawn.
This "selfie" that Bryce took with his pig, Patricia, has become a local favorite (I mean – look at those smiles!!!) and is being entered in bigger fair competitions – it is priceless.
Aaron Umbarger volunteers every year for an exhausting but satisfying 4 days, working the swine barns, coaching kids, corralling run away pigs and spending time with his children, Matt, Kady and Sam. Matt is a junior in high school and will have one more fair to participate as a FFA member and a member of the Junior Fair Board. His pig, Mary Porkers, weighed in at 250 lbs proving that those twice a day feedings, walks and pen cleaning did the trick. Matt also won a Best of Show for his table that he made in Advanced Ag Mechanics.
Matt's Best of Show project
Kady and Sam have not yet made the foray into the livestock portion of the fair, but love the atmosphere and the time spent with the annual reunion of friends. We look forward to sharing their pictures with you next year when they attend as participants.
Stacey and Tim who live in San Diego were unable to sneak away and attend the fair. They stayed back with their two sons, Ian (14) and Gavin (10) who spent their week filled with baseball games. Their daughter Fiona although only 8, is a seasoned traveler often flying by herself to join her cousins. She made the trek to cheer them on and enjoy the fair.
L-Fiona, M-Kady, R-Lucas
Scott Umbarger and his children, Adam, Logan and Lucas had a full, fun fair. Logan's pig, Speckles, received a group 1 in his market class and 7th in his weight class. His self-portrait entry won best of show! Adam is a freshman at Palma High School and is busy playing baseball but enjoyed coming to the fair and watching his siblings. Lucas, who just turned 9, will participate next year and was busy watching and learning the ropes.
 Logan and Speckles
This little new beginning is making all of us sigh and cuddle. She is so precious. Lily is learning all about life here on the farm, running through the lavender, greeting everyone and taking very long naps.
We are the best kind of tired you could possibly be; celebrating endings and beginnings.