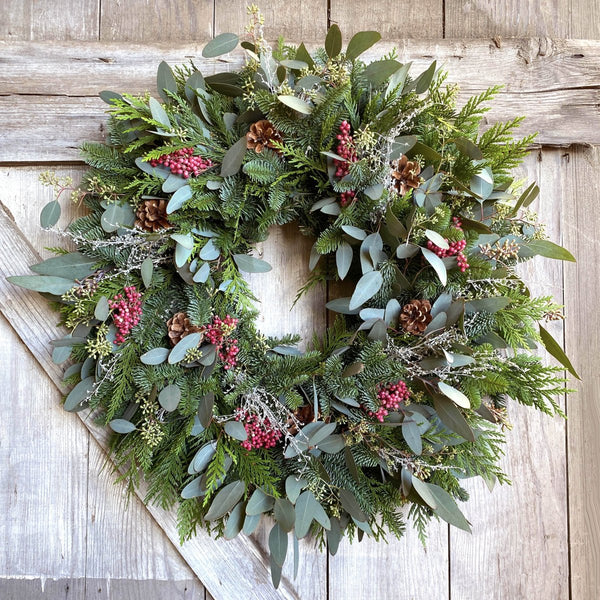 Why Purchase your Corporate Gift from Creekside Farms?
In the world of corporate gifting, making a lasting impression is paramount. Whether it's expressing gratitude to clients, strengthening employee relationships, or marking important milestones, the right gift can leave a lasting impression. At Creekside Farms, we'll explore why your company should consider purchasing wreaths from Creekside Farms for your corporate gifting needs.
Unmatched Quality and Craftsmanship
When you choose a wreath from Creekside Farms, you're selecting a gift of exceptional quality and craftsmanship. Each wreath is handcrafted on our family-owned farm in California, ensuring that it meets the highest standards. Our dedicated team of artisans takes pride in using only the finest, sustainably sourced materials to create wreaths that are not only beautiful but also environmentally friendly.
Unique and Eye-Catching Designs
Creekside Farms offers a wide variety of wreath designs to suit every taste and occasion. From traditional holiday wreaths to elegant floral arrangements, our diverse selection ensures that you can find the perfect wreath to convey your message. The handcrafted and unique designs can stand out from typical corporate gifts, showcasing your company's creativity and originality. 
Customization Options
We understand that corporate gifting often requires a personal touch. That's why we offer customization options to make your wreaths truly unique. Add your company's logo or a personalized message to create a gift that is both memorable and distinctive. Our team is here to assist you in tailoring your wreath to your specific needs.
Long-Lasting Impressions
Unlike many other corporate gifts that may be forgotten or discarded, a wreath from Creekside Farms is a timeless and lasting gift. Our wreaths are designed to be enjoyed for months, serving as a daily reminder of your thoughtfulness. They can be hung on doors or displayed indoors, adding a touch of natural beauty to any environment.
Supporting Local Businesses and Sustainability
By choosing Creekside Farms for your corporate gifting needs, you are supporting a local, family-owned business committed to sustainable practices. We prioritize the use of eco-friendly materials and sustainable farming methods, minimizing our environmental footprint. This aligns with many companies' corporate social responsibility goals and demonstrates your commitment to sustainability.
Hassle-Free Ordering and Delivery
Our Corporate Gift Division is dedicated to making the process of ordering and delivering wreaths as simple and convenient as possible. We offer bulk ordering options, flexible delivery schedules, and personalized customer service to ensure a seamless experience for your company.
Positive Feedback and Gratitude
Wreaths from Creekside Farms have a remarkable ability to evoke positive emotions and gratitude. When you give a wreath, you're not just giving a gift; you're giving an experience. The joy and appreciation expressed by your clients, employees, or partners can enhance your company's reputation and foster stronger relationships.
"Our order was placed last week and you were able to rush the wreaths and get my gifts out within a week," wrote first time gift buyer Anita, from Georgia. "I have already received three phone calls from recipients telling me how beautiful they are. You are so talented, and your customer service is outstanding. I am a raving fan and will be placing my order early this year."
When you choose to purchase a wreath from Creekside Farms Corporate Gift Division, you're not just buying a beautiful decoration; you're investing in a meaningful, high-quality gift that can leave a lasting impression. Elevate your corporate gifting game and make a statement with wreaths that showcase your appreciation, thoughtfulness, and commitment to quality and sustainability. Explore our collection today, and let Creekside Farms help you send the perfect gift that will be remembered and cherished for years to come.