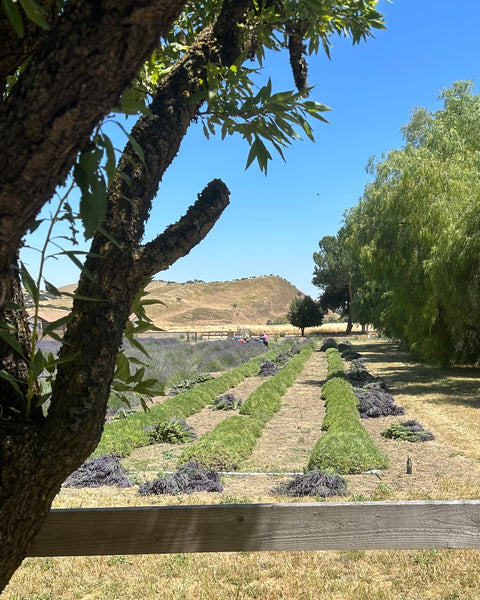 We are in the midst of our lavender harvest! The rains this year did wonders for our crops and specifically, our lavender. The color in the fields has been amazing and we hate to see it go. The beauty that was out in the fields is being harvested and hung to dry. Once completely dry, the lavender will be stored and used throughout the year in our designs. This year we are also offering fresh lavender bunches until our lavender is completely harvested.  
The lavender harvest is an intense time, as the majority of the plants are ready to be cut within days of each other. Every year it is a process to figure out the perfect time to begin harvesting. We have found that it is best to harvest when roughly 25% of the buds have opened into flowers and the bees are all over the plants.
The majority of the fields are harvested within about a week; however, we still see flushes of lavender that we continue to harvest for about three weeks. Not all lavender is ready to be harvested at the same time, even if they are on the same plant. It usually takes at least three times through each field to get all the lavender cut!
We have grown lavender in our fields for over 30 years. We grow thousands of lavender plants and currently only grow lavender on our home ranch. Apollo, has been enjoying the lavender in its various stages as he loves to run through it and is now enjoying the harvest too!
There are over 45 different species of lavender with over 450 varieties. The two most common species are Lavendula Angustifolia and Lavendula X Intermedia. These are the two main species that we grow. The Lavendula X Intermedia plants grow tall and have the strongest scent of all of the lavenders. On the other hand, our Lavendula Angustifolia fields produce the deepest color purple. We grow them mainly for their depth of color and how they thrive in our environment.
We use both varieties in our wreaths. The longer lavender makes wonderful wreaths and provides lots of fragrance, while the shorter variety provides amazing accents and adds lots of texture and color to our various designs. Not only is lavender beautiful to work with, but our artisans thoroughly enjoy the soothing effects of working with lavender to make our beautiful creations.
Did you know that lavender has many uses, including used in cooking? The following is a link to a simple cookie recipe. Honey Lavender Cookies. Stay tuned for a blog on the many uses of lavender, including more recipes!