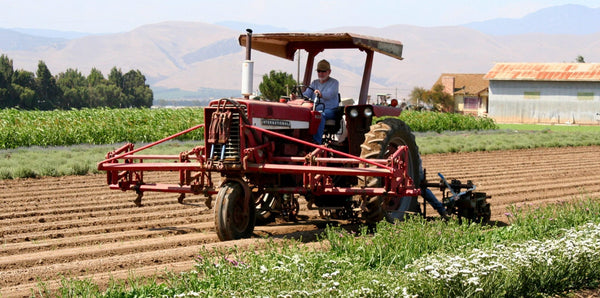 All of our prep work these last few months is coming to fruition. We were finally able to start planting early in the month. We transplanted some sweet annie that had sprung up in one of our lavender fields. Shortly thereafter, our plants from the greenhouse were ready and we began planting them in the fields. Our new transplanter that Larry rebuilt and then modified was put to good use. We have planted achilia, marjoram, savory, safflower rosemary and broomcorn. Additional plants will be ready soon and we plan on having everything in the fields within the next couple of weeks.
We have been extra busy lately with simultaneously planting our fields and harvesting some of our perennials. Thyme was the first to be harvested and sage is beginning now. The sweet aroma of the thyme has filled the warehouse as it dries on the racks. Soon we will have a plethora of amazing scents as we harvest the various herbs and flowers.
Our production crew enjoys the aroma of the herbs as they dry while they create the beautiful wreaths for Mother's Day and throughout the summer.